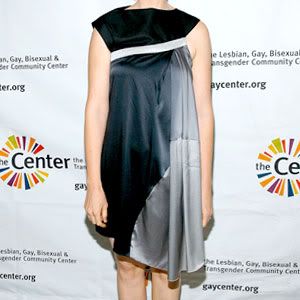 A lousy dress? Oh no! This
Sex and The City
star
was caught dead in such a lousy dress, that her alter ego would never ever wear! She has been spotted by the paparazzi on the sophisticated red carpet party of the
13th annual Women's Event in New York City.
Knowing the characters of the much-coveted and bankable movie sequel are all glamorous and fashionable from head-to-toe; fashion critiques were surprised to see this SATC star don a dress that didn't flatter her figure but rather flank her in the eyes of the fashion police.
She is much known to play the role of a career-minded
lawyer
with extremely
cynical
views on
relationships
and
men
. She's no other than Cynthia Nixon a.k.a Miranda Hobbes in the HBO-sequel-now-turned- movie Sex and The City.
photos from eonline.com and More.com
She could have been stunningly gorgeous if she wore something that would expose her curves, and will make her look younger than her age.
Cynthia is already at her 40s. Being at your 40s doesn't mean forgetting about yourself. As they say, "Life begins at forty" and so, it gives much reason that women at this age should be more conscious about themselves, to stay and feel pretty and young forever. One of the secrets to achieving a younger looking body is to wear a shapewear. As a woman age, her metabolism slows down, thus leaving room for extra fats on unwanted areas like the abdomen and waist.
Vedette shapewear are made especially to women of different needs. With its wide variety of garments, women will find her perfect match that will give her the best compression and fit to shape her figure as slender and sexy it could be. One of the proper shapewear to wear when wearing dresses or gowns is
MEGANE
.
Megane is a sensual corset with lace panty gusset that flattens your abdomen, improves your posture, and lifts your busts for a more pronounced and sexy body. With its lace panty, it won't leave any marks even how tight your dress or gown is.
Remember, being beautiful and presentable is a sign of how much you love yourself, so take good care of it. Live young, feel young, and look young.