A couple of days to come and it's already December! It only means a lot of parties, and events are just around the corner; which only means the more occasions, the more tempting ways to eat and a larger possibility of gaining weight. Usually this is the dilemma of some women, how to lose those extra pounds after the feast.
The great news is that, Vedette Shapewear is here to help women out there who wants to slash her extra pounds away! Introducing...
Veva
is just only one of the many shapewear of
Vedette
, that helps women to get back in shape instantly! It is a bra-less bodysuit under
Dual Control category
. It gives enough compression and focus on the abdominal area, to flatten the tummy bulges away.
Veva is made-up of Nylon, Latex, Spandex, and Cotton. These materials are responsible for giving the right compression to this shapewear. It is also an advanced powernet shapewear with hevea front panel, that is responsible for giving a svelte abdomen, waist, and back.
If you're thinking that this slimming lingrie is hard to wear, well it is not! With its durable hook-and-eye closure the shaoewear will always be intact and in position. Veva also has a panty gusset with Valencian Lace trim accent that gives sexy appeal and sophistication when worn. And since it's panty gusset is lace, there wiill have no visible panty lines no matter how tight your clothes will be.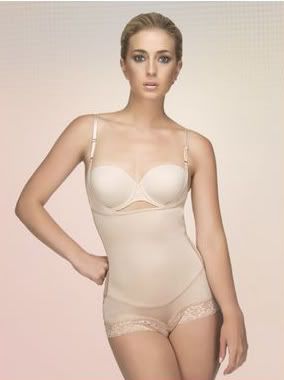 Veva is also available on Nude color, and is available in different sizes, with sizes 2xs as being the smallest, and XL as being the biggest.
But how much is Veva? Well it's original price is $79 and is now on sale for the holiday season at $ 47.4, don't you love sale? Get yourselves a Veva ladies! And make those extra pounds disappear in an moment!
Veva is definitely worth a penny!